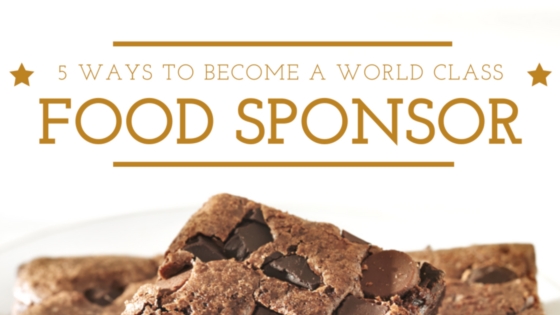 I admit that I love to go to events. I recently went to a series of amazing event in San Francisco and I couldn't help sharing with other attendees a common feeling: hunger and thirst! Luckily these events provided amazing food – otherwise the ranks would probably have been considerably emptier. Now comes the tricky part: food doesn't come for free. And events are notoriously short on money. It's no wonder that so many events are looking primarily for a food sponsor.
Usually a food sponsor gives some money and the organizer orders the food somewhere. Here comes the painful truth: I must admit, that I cannot remember who were the food sponsors at these various events. Were was the visibility for the sponsor?
Here are 5 ways to become a champion food sponsor while creating added value to the event (aren't we after all fans of inbound marketing?).
Food Printing
Thanks to new technologies, today we can
print logos on eatables
. That opens enormous possibilities for sponsors to associate their name with the food at an event. The logo of the food sponsor
printed on small cakes
will be literally delicious and for sure associated with a positive experience for the attendee (hopefully if the cakes are tasty). But that's only one thing. Why not engaging attendees with a tailor-made landing page that can only be accessed using a code printed on the food? This would incentivize attendees to take photos of the food prior to eating it and to visit the landing page to claim some perks.
Beer Can Keyboard
Asking attendees for their email address is tricky. Many people don't want to give it away – not even in return for something. A funny and engaging way is the
Beer Can Keyboard
that serves well as an inspiration for similar installations. Here's how it worked:
A brewery sponsored an event and wanted people to participate in a game with interesting prices to win. To do so the attendees needed to type in their email-address. Instead of placing a terminal or a normal keyboard, the brewery went on to create a keyboard entirely made of their beer cans. Attendees had to type their email by typing it on the installed beer cans.
The result was a tremendous conversion rate (many people simple wanted to try it), it was fun for everybody and the name of the food sponsor was instantly associated with a positive experience.
Labeled Drinks
The idea of having a
companies logo printed on bottles or cans
is for sure not new, but todays printing technology makes it easier than ever to bring a food sponsor in front of the audience. The key to success is not to simply put the logo but instead to incentivize the attendees to take an action after the consumption of the drink. This could be entering a competition by posting pictures what  artistic things the attendee can do with the bottle or the cans. It could be also simply asking the attendee to connect to a dedicated landing page that gives privileged access to a discounted version of a software, a longer trial period or something else interesting.
Labeled Napkins
Who says food, says napkins. Who wants to run around having remaining food hang around the mouth. Surprisingly I have almost never seen any food sponsor providing
customized paper napkins
– even though it's easy and not even expensive to get these napkins printed. The advantage is: the napkins will be visible on the tables and people will carry them around in their hands. The tricky part is to deliver a compelling message on the napkins. Checklists are very popular items that are often shared on the internet. Why not sharing such checklists on paper napkins handed out to attendees?
Show Cooking
Of course this one is heavier to organize and way more expensive. But very visible. Organize a chef and a mobile kitchen and have the chef cook something really spectacular at the event. Brand the kitchen and get involved yourself. You can be sure that the attendees will have a good perception of the food sponsor if it's part of the show in a funny and exciting way. CEO's shouldn't be afraid to get into the ring with the chef to get a lesson in cooking (and giving attendees a fun time). Why are cooking shows on TV so successful? Because everybody eats. Use that knowledge for your next sponsorship.