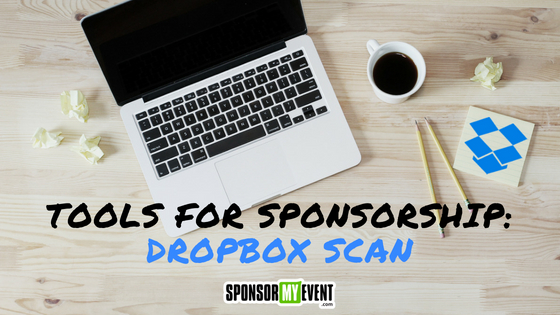 In this series, we speak about tools that make sponsorship easier. We know that sponsorship is relational and that many processes can be optimized by using the right tools. Disclaimer: we are in no way affiliated to the products or services described and don't get any money whether you purchase or not the product or service, we simply like these tools. Enjoy our blog about the Dropbox scanner app!
Smartphone cameras are producing stunning photos, often exceeding what pocket cameras some years ago were able to deliver. Yet this is not limited to photos or videos, instead, you keep a very powerful document scanner in your pocket. Time to unleash its power!
No matter what business you are in, you will inevitably face the situation that you'll need to scan documents. Be it mail you've received, agreements, promotional material, or briefing notes. Most of the things we receive today as paper can be easily thrown away, at least after having been filed correctly on our computer.
Desktop scanners have been around for almost a lifetime, but they don't really fit any more in our mobile, always online, world.
Browsing app-stores
(iOS
or Android) reveals a far more than one dedicated scanner app. I've been using Scanner Pro
(iOS) as my favorite scanner app
for a long time with good results, but recently I've discovered a scanner feature in Dropbox which is not even prominently highlighted on Dropbox's homepage, a huge mistake in my opinion.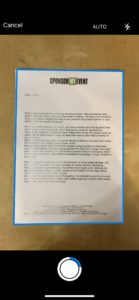 Most of us know Dropbox as one of the pioneers of cloud-based storage. It's still their core business, but they managed to weave several interesting features into their core-business, thus enhancing it quite a lot. Opening the app and clicking on the
"+
create" button at the bottom of the page shows
"scan
document" as one of the options. So it's not a dedicated scanner app but included seamlessly into dropbox.
Having been quite skeptical about the quality, I've decided to give it a try and was quite surprised to find a rather well-crafted scanning module which works pretty well under most circumstances.
You won't find any options to fine-tune the scanner, but it does what it's supposed to do
(Scan
Documents). The system detects the shape of the paper reliably and takes the photo after a little while. Comparing the quality to iOS built-in document scanner in
"notes"
shows that Apple is clearly lagging behind in quality
(and
unfortunately as well in user experience).
Adding more pages requires to hit a button, but that's not a big thing. As soon as the scan is finished, the document can be saved, either in the last folder or by choosing another folder and file-name. From here it can be shared just as every file in your Dropbox.
The whole process is intuitive and can be launched even from the lock screen
(in
case of iOS). Even though the difference in usability between Dropbox and other scanner apps might not be very big, Dropbox managed to streamline the process in a way which is making it a pleasure to use it. And that's also the main reason why I started to use it more frequently than Scanner Pro.
Of course, there are some caveats. First of all, you are kind of bound to Dropbox's eco-system. By default, your documents will be saved in a Dropbox folder and the only way to change that is to manually copy them other apps. You are as well limited to your accounts maximum storage, which is quite limited in the free version.
OCR is only available to paid users and in general, there are little to no possibilities to adjust the settings according to your needs.
My recommendation: if anyway you are using Dropbox, then you should definitely give it a try. If not, you might want to try other dedicated applications.