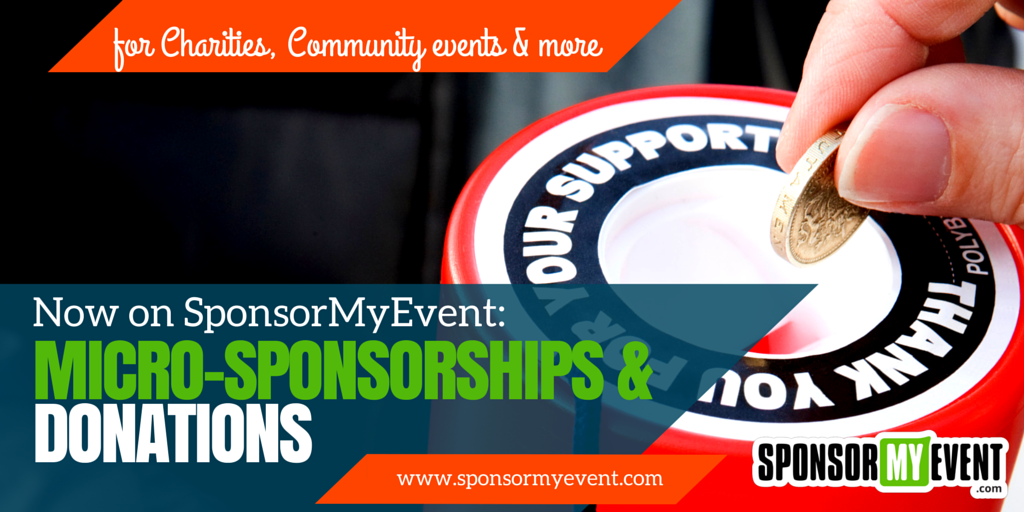 It has been a popular request on SponsorMyEvent mostly by Charity events, Fundraisers and Community events. And now it's ready. SponsorMyEvent can handle donations and micro-sponsorships.
Not only Charity events, Fundraisers and Community events will take advantage of this new package that allows everybody to collect smaller amounts for their events.
The applications for smaller amounts are endless: collect donations, low-priced sponsorships from neighborhood-sponsors to membership fees for clubs. Everything is possible from donations to micro-sponsorships.
How it works:
The handling is in no way different from normal sponsor-packages. By clicking on "donation" this package is added to the list of sponsor-packages. Organizers are free to change the name and of course the details about the package.
The price should be anywhere between $5 and $100 (or 5€ and 100€) to make the new package attractive to supporters and donors.
The description should contain information what will be done with the money and how the donor or supporter will be thanked for his contribution. This could be i.e. naming them in a leaflet, on the homepage or any other means.
Shout it out (loud):
Donors will not necessarily find an event by themselves. Organizers need to use all possibilities to spread your event as much as possible: share it on Facebook, Twitter, LinkedIn and others.
SponsorMyEvent's "Power Editor" to invite:
Our new Power Editor is perfect to invite people and send them tailor-made proposals. That means that invited sponsors or supporters will receive a dedicated proposal and event profile that shows them only the options selected especially for them.
The organizer of an Charity event might have a list of supporters he wants to invite. But he knows that these supporters will not be interested in the traditional sponsor-packages. Therefore he can create especially for them a proposal that only shows those packages suitable for supporters.
On the organizer-dashboard click on the "Invite more sponsors" in the "My Sponsors" area. Then click on "Create Customized Offer".
In the first step, organizers can add emails of the sponsors or supporters they want to invite. Organizers should also explain in the email-text why they are invited (i.e. to make a donation).
In the second step, organizers can select the packages they want to send out to sponsors or supporters. This could be simply a donation package or even newly created packages only be visible to the recipients of the proposal.
In the third step the proposal can bereviewed and sent out.
Enjoy this new functionality!