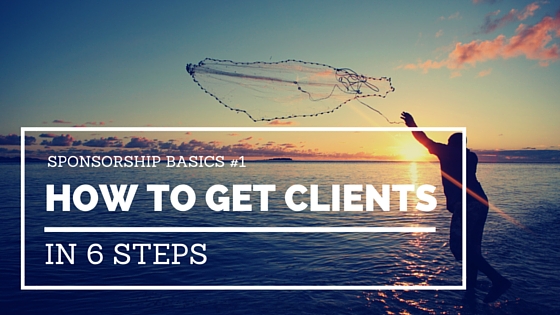 Would you spend $5000 on a social-media campaign without really thinking about how to generate the highest ROI possible and to get clients? Surprisingly many companies don't put the same efforts when it comes to event sponsorships.
Sponsoring an event is a tremendous opportunity to get new clients. Most people love to go to events from time to time and it's hard to imagine a more focused, targeted and efficient marketing channel. Yet this marketing channel is considered being far from sexy and therefore rarely mentioned in publications about efficient marketing – wrongly as I must say. Experts agree, that the old-fashioned way of hanging a banner somewhere or simply putting a logo at an event is
outdated
. Times have changed and today we speak about
inbound sponsorship
, perfectly in line with inbound marketing, the content-driven marketing method that creates true engagement with the client.
This is the first blog post in a series that describes how to become a successful event sponsor in order to get clients.
Part I covers the basic steps: how to get ready for a successful sponsorship and how to find the right events.
1. Define your target-audience aka who your clients are
Sponsoring without having a good knowledge of your target audience is just like throwing money out of the window. You should know who your clients are: what age are they, do you know what taste they have? Do they share certain criteria like style, music, interest for art or other things?
Create an Excel-Sheet, write down a list of criteria that seem appropriate and then pick as many of your clients as you can to create profiles of them.
This will help you enormously to get a feeling for whom your clients are.
You may also simply ask your clients or hand them out a short survey (or by internet). Please bare in mind, that your clients will be more likely to fill out the survey if it's short. So limit it to 4-5 key questions that can be answered by multiple choice.
2. Define what kind of events your target audience attends
The best way to find out is asking. Don't be afraid to engage in a conversation with your clients by simply asking about an upcoming event. Your clients will quickly reveal what kind of events they prefer.
You will find out in no time what kind of events are no brainers and which ones are typical no-go's. Also in this case it's recommended to make an Excel-sheet that helps you memorize what your clients have told you. Of course it won't do any harm to go yourself to some of the events your clients mentioned to get a feeling for these events and eventually also to get in touch with the organizers.
3. Select the right sponsorship opportunities aka the events
With this knowledge in mind, you can start looking around for suitable events.
The research you have done should have given you clear indications about the following criteria:
who are your clients (age, style, interests …)
what types of events do they prefer
how often do they go to events
It's not worth looking for sponsorship opportunities at rock-concerts if your clients prefer to go to charity events. Narrow down your list of potential events to be really successful. The best is to start sponsoring only a few selected events to test your assumptions. You should also ask your clients after the first sponsorships what they liked about your involvement in the event (don't ask "if they liked your involvment", because everybody will say "yes").
Sponsorship utilities can be found on various places like Google, Craigslist, local newspapers and others. But in order to be among the first ones to secure a good sponsorship spot, you should consider using a platform like SponsorMyEvent.com which sole purpose is connecting organizers and sponsors.
4. Define your strategy and key message
It is crucial to deliver your message the right way. We will cover this topic more in details in a separate blog post, but so far please be aware that todays sponsors are expected to bring an added value to an event. "Gone are the days when sponsors and event hosts were content to bathe a party in logos and consider their work done." (
BizBash
). That's what you should keep in mind. Sponsorship is not anymore about just putting a logo. Instead it's about engaging with the audience in order to create a positive image for your brand. Of course it takes more time and brain-activity to develop a compelling strategy, but trust me: it definitely pays off to spend that time.
Also don't forget to align your concept to the type of event you will sponsor. The best sponsorship campaigns surprise the audience with a message and a content that is extending the benefit of the event. These sponsorships give the event an additional dimension instead of just adding a layer on top of it.
5. Secure your sponsorship spot and get involved with the organizer(s)
Don't make the mistake to wait to long: the best sponsorship slots are gone before you even might have time to secure them. Always keep your eyes open for the right spot and get it before your competitor does.
As soon as you have it, get closely involved with the organizer and create a special bond with them to bring your strategy to live. The earlier you can get involved, the better it will be for you as you may be able to better embed your sponsorship into the event.
Again this will take time and some event organizers might be surprised that all the sudden you will get involved to a certain extend. But if you treat the organizer with respect you will form a long lasting partnership.
6. Follow-up: there's always the day before and after the event. Don't miss to get clients.
The event itself is only the apogee of all your efforts to make that sponsorship a success. But the time before and after the event is just as important to engage with the audience to get clients. To add this extra dimension to the event, you will need to use all possible communication tools to get in touch with the attendees. We'll cover this topic as well in a separate blog post, but for now you should keep in mind, that attendees often are preparing in a certain way for an event, be it by browsing an internet-site, signing-up for a conference, getting in touch with other attendees or other ways depending on the type of event.
This allows you to give an added value to attendees prior to the event. The same applies to the time after an event. If you were able to collect addresses before or during the event, you may extend your sponsorship activity well beyond the event itself.
Don't hesitate to go the extra mile to make your sponsorship a success. For sure it means more work, it means more brainstorming and some creativity. But your ROI will clearly show that the engagement was worth it.