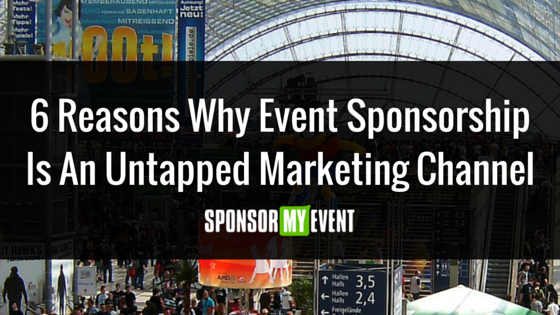 There's no doubt that brands believe in sponsorship on a mass scale. In their 2016 "What Sponsors Want" survey, IEG found that sponsorship spend is projected to continue its year-over-year growth with spending increasing 4.5 percent over 2015 to $60.2b in 2016. Yet despite the significant global spend on sponsorship, many marketers have a tough time committing spend to sponsorship when their main objective is fast, top-of-the-funnel growth and their budgets are constrained.
Here are six reasons why event sponsorship is an untapped marketing channel.
1. Events provide a captive audience.
Whether you're sponsoring a technology conference like Startup Weekend or an extreme fitness competition like Warrior Dash, event sponsorship provides you access to an invested, enthusiastic audience. Even corporate events that are required for some attendees like conferences or congresses offer sponsors the opportunity to connect with a very engaged audience.   
2. Events attendance is a type of targeting; many offer extremely.
By attending an event, any particular individual is categorizing themselves into a broadly-based persona. Let's go back to our previous example of technology conferences or extreme fitness events. Regardless of event type, you're going to have access to an audience that is very specifically targeted. If you can successfully identify the right event types for your target personas, you'll hit pay dirt with direct access to that specific audience. Depending on the event, you may even be able to work with the event planner to refine your targeting even further. For example, if you're promoting a new technology platform to a very specific type of developer and you work with the event organizers at a technology conference, they're very likely going to be able to help you connect your brand with only those relevant developers via email marketing, relevant breakout sessions or mobile advertising through the event app.
3. Sponsorship packages are generally flexible.
Just like we mentioned in the last point, event sponsorship packages are hardly ever set in stone which means that you can very likely work with an event organizer to get exactly the type of sponsorship that you need to meet objectives. Clear communication and a bit of flexibility on your end do wonders for an event organizer's willingness to compromise on sponsorship deals.
4. Events are more digital than ever before.
With the ubiquity of social media, event mobile apps, experiential technology like RFID and geofencing as well as a whole host of new data and analytics capabilities from event software companies, events have never been more digital. This is good news for marketers who rely on data to make decisions and to structure campaigns, even onsite at events.
5. Hybrid events are on the rise.
Hybrid events are a combination of the traditional face-to-face experience along with a virtual component, such as a webcast, which allows individuals to participate or "attend" without actually traveling to the event. And they're getting more popular with an industry-wide expectation that they'll become even more important in the coming years. This means that the associated sponsorship options are broadening, too. Ask your event organizer if they offer a hybrid option, and if so, what hybrid sponsorship opportunities are available.  
6. You can still measure conversions like you would in any other channel.
Event organizers are quickly adapting to serve marketers' needs in their sponsorship offerings. Many corporate-style conferences provide access to attendee lists or include sponsored emails in their sponsorship packages. There are a multitude of ways that you can build conversion rate measurement into sponsorship. For example, printing an event-specific code on your marketing assets (print or digital) that provides a unique benefit like an extended trial of your software product, a free sample or a discount on your product/service is a great way to track acquisition from any specific event.