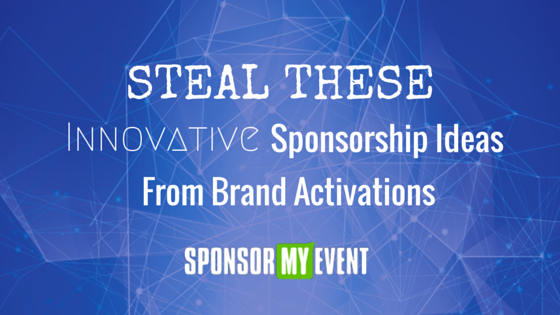 Event sponsorship is often seen as overpriced logo placement. But, it's very similar to the model that household name brands leverage with brand activations at major international events like Lollapalooza, SXSW and Cannes. So how can event planners repurpose the ideas behind these activations to fit the scale of their own events and the budgets of their potential sponsors? Take a look at some of the ideas you can steal…
Get Social
By incorporating elements of social media into your sponsorships, your event and your sponsors will benefit from an increased reach. For example, instead of engaging with a single attendee at a time, you'll actually be exposing the sponsor (and your event by association) to the attendee PLUS their social networks. IHeartRadio used an Instagram-powered vending machine which offered branded swag in exchange for payment via an Instagram post. The strategy drove over 5 million online impressions. Why not offer your sponsors the chance to do something similar like a social media photo booth?
Give Attendees A Memento
Strive to create memories for attendees with sponsorship. At 2016 Rock 'n' Roll Marathon series, visitors toThe Toyota Inspiration Station could walk away with "an event keepsake in the form of a seven-inch vinyl record bearing the race data, as well as the athlete's name and finishing time." There are plenty of ways that you could replicate this type of event memento that could be incredibly cost effective. The key is that you're providing attendees with something that's not tacky or cheesy — the memento needs to be something that an attendee would actually want to hold on to.
Integrate Product Placement
Top events often leverage product placement but they do so by incorporating the product placement into the narrative of their event. The product placement doesn't overshadow any of the event's programming or content. That said, rockstar event marketers still make sure that attendees understand that the products being used belong to their sponsors. At one of the nation's largest culinary events, The New York City Wine & Food Festival, Samsung not only had a physical presence in the form of The Samsung Lounge but they also integrated their appliances throughout the event:
For the Billboard Music Awards in May, Samsung debuted a new backstage V.I.P. viewing area featuring its high-tech home appliances; a digital backdrop of fan art was streamed to Samsung televisions. At a separate Billboard Music Awards viewing party, Molly Sims used Samsung's dual door oven and showed off the brand's Activewash washing machine."  via Bizbash
Pamper Your Attendees
One surefire way to facilitate engagement through sponsorship is to provide a pampering experience. For Lollapalooza festival-goers, Bud Light hosted the "Tattoos and 'Dos'" booth where stylists provided hair braiding, temporary hair chalking and other beauty services. Seem a bit wild for your attendees? Corporate event sponsors have offered complimentary neck massages, express manicures and oxygen bars for their attendees.