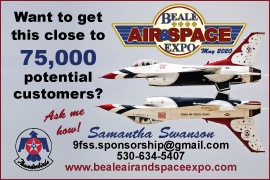 About the event
Beale Air Force Base, better known as Recce Town USA, hosts the 9th Reconnaissance Wing. The signature U2 "Dragon Lady" planes (pictured below) can be seen climbing into atmosphere as they embark on high altitude reconnaissance missions. Beale is also home to the RQ4 "Global Hawk, the unmanned aircraft that aids in the 9RW's Intelligence, Surveillance, and Recconnaisance missions.
Following the success of our 2018 Expo, we
are adding not only an incredible headliner with the USAF Thunderbirds, but a second day to better showcase the awesome power and history of the Air Force AND accomodate an expected 85,000+ attendees!. Join us as we also celebrate the incredible Women in Aviation on Mother's Day! On Friday, May 8th during our Military and DOD Only Practice Day, students from around the area will be invited to Beale for a STEM expo, featuring aerial performers and space, air, and science experts from the area.
EARLY BIRD PRICING: AVAILABLE UNTIL
1 SEPTEMBER, 2019!
Until September 1st, 2019, packages start
at $3,000 for three days of Contributing Sponsorship, with options up to the $20,000 Presenting Level Sponsorship.
The opportunities to activate are endless: Whether it's the Kid's Zone, presented by
your company, The Friday Night Concert in Association with your business, or the Parent's Lounge, supported by your brand. While these are some great ideas to get you started, we would love to tailor an activation directly to your business and your needs.
Let us know you are interested, and see what we can come up with for you!
Why should you sponsor?
One of the best-kept secrets is now out: Air shows are now the second most popular spectator sport in North America! Over 26 million people attend more than 400 air shows annually, drawing nearly twice the attendance figures of NFL Football!
Sponsorship at the Beale Air & Space Expo provides you with the opportunity to reach the military Market on Friday, as well as the following cross section of the area on Saturday and Sunday!

Beale Air Force Base Marketing
Samantha Swanson is the Commercial Sponsorship Coordinator for the 9th Force Support Squadron at Beale Air Force Base. Sponsorship through the MWR is the only place you can reach a military market thathas an over $627 million impact on the community, while also having your money directly benefit the airmen and their families at Beale.
Contact the Organizer
Contact the Organizer