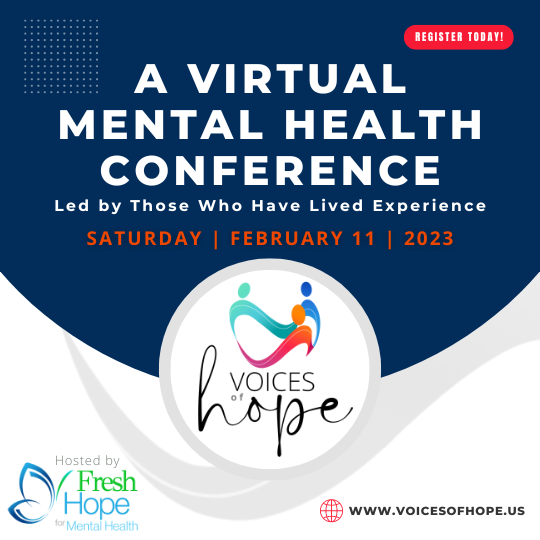 About the event
"Voices of Hope" is A Virtual Mental Health Conference Led by Those Who Have Lived Experience. It is a Conference by Fresh Hope for Mental Health.
VOICES OF HOPE IS FOR:
Anyone who is either experiencing a mental health challenge or has a loved one who does.
Anyone needing to heal trauma and grief.
Those experiencing Post Pandemic Distress who are searching to improve their emotional health.
Churches and Ministry leaders who are looking to increase their church's capacity, awareness and offer hope to their community.
THERE WILL BE 6 TRACKS AVAILABLE:
Living with a Mental Health Diagnosis
Resources for Loved Ones
Trauma and Grief
Parenting When There's a Mental Health Challenge or a Disability
Post Pandemic Emotional Health
Pastors and Ministry Leaders
About Fresh Hope for Mental Health:
We are a Non Profit. We Offer Faith Based, Peer to Peer to Support to those who are struggling with a Anxiety, Depression, Bipolar Disorder or any other kind of Mental Health Issue, as well as to their loved ones. We also equip Churches, Pastors and Leaders on how to establish thriving Mental Health Ministries in their Congregations.
There are two ways to engage:
FREE: One Day Access to Full Online Event, Engage with Fellow Participants in Event Facebook Group, Download Handouts and Speaker Resources
ALL ACCESS PASS: One Year Access to Online Event for your Team, Engage with Fellow Participants in Event Facebook Group, Download Handouts and Speaker Resources. All for $49.99
The Conferences will be Pre-Recorded and will be available on demand so the viewer chooses which conferences to watch and when, at their own convenience.
Why should you sponsor?
There are two possible types of Sponsor:
1. A Company which finds audience affinity with our audience. Our Approach is more like We offer opportunities to connect to your target audience in meaningful ways, all at a 2:1 ROI when compared to market value..! Please see the attached document to learn of the exact nature of our audience, their likes, dislikets, avatars, etc. Apart from the opportunities mentioned in this page, we can customize whatever you want to use more of- Speaking Opportunities at the Conference, Social Media, Sampling, E-Blasts, Lead Generation, Awareness, etc. You Decide...!!
2. People with a Heart for Mental Health. Did you know that on average there are 130 suicides per day? And that's just in the United States. Globally, close to 800,000 people die from suicide every year. That's one person every 40 seconds. Now more than ever we are called upon to make a difference.
This portion is from Rachel's story, in the video attached to this opportunity:
"Rachel from El Salvador says, "My story begins when I was a child and got worse when I was a teenager. I always knew something wasn't right. The pain I felt was so intense I needed something to numb it. There seemed to be no way out of this." Rachel tried to end her life several times. In 2019, she was in the hospital for nine days and a woman she refers to as "God's angel" told her about Fresh Hope for Mental Health. Rachel took a chance and attended her first Fresh Hope support group. "For me it was like a prayer that had been answered. No one talks about these problems anywhere else. When it came time for me to share, they listened very carefully. Little by little I started to feel better. Now that Fresh Hope is in my life, things are completely different. And from being absolutely broken and done with my life and stuck in the darkness, I have moved to see possibilities again and knowing that there is still hope, and this is not the end. I can tell you that there is hope. There is Fresh Hope."
As of today, Fresh Hope has 108 ongoing groups hosted by 11 different countries (Zimbabwe, Australia, India, Spain, USA, El Salvador, Bolivia, Peru, Mexico, Canada, and the UK) with participants from over 26 different countries.
Featuring not only mental health support groups, Fresh Hope now also hosts specialized support groups for couples where one of them has a mental health diagnosis (in partnership with Mental Health Strong), and specialized support groups for widows. We are also excited to have launched our Fresh Hope for Pastors program.
Additionally, in 2022 Fresh Hope has held 46 short-term groups like Processing Together and Trauma Healing. We have trained more than 263 Hope Coaches during 2022. Our materials have been translated and published in Spanish and are also being translated to French, 3 Indian Languages, Japanese, Portuguese, and Chinese.
Pastors Don and Kaluba from Bulawayo, Zimbabwe, have also found Fresh Hope. In 2006, Kaluba was diagnosed with clinical depression. She even had times when she felt like she didn't want to live anymore. She told her pastor, but he didn't take her seriously. In fact, he told her that depression was for nonbelievers and all she needed to do was pray. This advice discouraged her and left her confused. For years, Kaluba felt she had no one to talk to and kept her diagnosis to herself. Recently, she was invited to a Fresh Hope support group. Kaluba says, "I was just amazed at the open and accepting reception I got. For the first time I could talk openly about my diagnosis and know that I would still be accepted. I've been attending Fresh Hope with my husband, and this has helped both of us. I now know there is hope in Jesus."

Samantha Karraa
www.freshhope.us
"Fresh Hope for Mental Health" is a Non-Profit Organization that has been providing faith based, peer to peer support to those struggling with mental health issues and their loved ones since 2009.
Our Founder, Pastor Brad Hoefs, drew out from his very painful journey, 7 Recovery Principles. Each principle has a paragraph for the person with the diagnosis, another one for the loved one and a third one on how they approach that principle together.
Pastor Brad is also an author of two books which can be found in Amazon: "Fresh Hope: Living Well In Spite of a Mental Health Diagnosis" and "Holding to Hope. Staying sane while loving someone with a Mental Illness".
Although all our programs and trainings are of high value, our support groups and Hope Coaching services are free of charge. We depend fully on donors and sponsors to keep helping those who need it the most and cannot afford it.
From being a small Organization, the needs and opportunities to help have been growing so much and we need your support in order to meet those needs and opportunities worldwide.
Contact the Organizer
Contact the Organizer