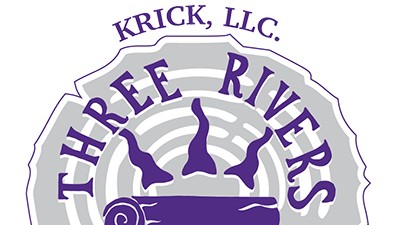 About the event
The 13th annual Three Rivers Roleo will be broadcast on Fox Sports Wisconsin and Fox Sports North at least twice. The tournament will be televised to over two million homes throughout Wisconsin and Minnesota. The tournament is held at the Great River Landing off the Mississippi River and Black River in Onalaska, Wisconsin. This is the sixth consecutive year Three Rivers Roleo will be broadcast on Fox Sports Wisconsin and Fox Sports North. The event is free to the public and encourages families, history lovers, and outdoor enthusiast to enjoy the live event at the Great River Landing.
This year's event is expected to include several world class athletes with the majority of top 10 ranked men and women's Professional Log Rollers including two-time World Champions' Livi Pappadopoulos and Meredith Ingbretson. Along with 2019 World Champion Anthony Polentini and the majority of the top 30 athletes in the sport will also participate.
Three Rivers Roleo received a Grant from Explore La Crosse that will support a mobile conquesting campaign targeting spectators from Minneapolis, Eau Claire and Rochester. Further, we are partnering with La Crosse Radio Group and will be doing more marketing to attract listeners of CC 106, Magic 105, 102.7 the Eagle, and small advertisements on other stations of theirs.
Why should you sponsor?
Three Rivers Roleo is an action-packed professional log rolling tournament with the top log rollers including current and past World Champions. Sponsors receive many benefits by supporting Three Rivers Roleo. Television level sponsors received the following results in 2019:
Your banners on the dock itself which is caught on camera more than the shoreline banners. (Think of it like home plate in baseball.)
Banners on the shoreline appeared 22 times in the broadcast
Logo on the back of the jersey was on the broadcast for 18.5 minutes
Commercials on the broadcast
Broadcast 12 times on Fox Sports North & Fox Sports Wisconsin
Nielson ratings increased by 70% from 2018 to 2019
Graphic on the screen coming back from commercials
We are also look for local level sponsors! This event was founded as a local event in the La Crosse, Wisconsin area. It was made possible by the community businesses and they continue you make it possible. The event is free to the public, encourages families, history lovers, and outdoor enthusiast to enjoy the live event. Logging is part of the history of the Midwest which is where the sport of log rolling developed from. Sponsoring at the local level gives you access to everyone who attends and you may get lucky and be in the back drop on television!
The full year over year athlete attendance, spectator attendance, Nielson ratings, and sponsors are in the document "2019 to 2008 year over year tracking. The Nielson ratings by broadcast are also attached. This is a great outdoor event with Midwest Coverage of up to 2 million households on Fox Sports North and Fox Sports Wisconsin.

Katherine Burke
Allow me to introduce myself, I am Katie Burke (formerly Rick), co-founder and tournament director of Three Rivers Roleo. I founded KRICK, LLC to continue the pursuit of my passion for log rolling that I have had since my childhood. I have contributed to the sport over the past 18 years, working as a professional log rolling promoter, instructor trainer, coach, and competing as a professional log roller as well during that time. Additionally, I am Lecturer of Accountancy at the University of Wisconsin Green Bay and a Certified Public Accountant. I spent seven years in business full time prior to switching to academia. Three year's as an auditor at Deloitte in Minneapolis. Then moved to La Crosse and worked as an accounting/ business manager for 4 years of multiple local establishments owned by an entrepreneur. During this time I completed my MBA at UW-L.
I have consulted on other events assisting in coordination and execution. I worked on the STIHL Timbersport Series behind the scenes as the Director, Roger Phelps, right hand in 2017 and 2018. STIHL Timbersport Series is broadcast nationally. I had similar responsibilities at Reno Air Races in 2017.
Three Rivers Roleo celebrates its 13th year in 2020 and its 6th consecutive year on Fox Sports. I directed several amateur tournaments, founded the US Logrolling Open, a pro event which made its debut in Chicago Southland in June of 2016 and moved to Gladstone Michigan in 2018. The fifth annual US Log Rolling Open will be held on July 4, 2020. The majority of top 10 professional competitors on both the men's and women's side are expected to attend both events. Since moving to the Gladstone, the Open is co-directed with Dan McDonough, a 9 time log rolling World Champion. I am close to signing contracts for a third event for 2020 in Minnesota which will mark the 4th state I have directed professional tournaments in.
Contact the Organizer
Contact the Organizer