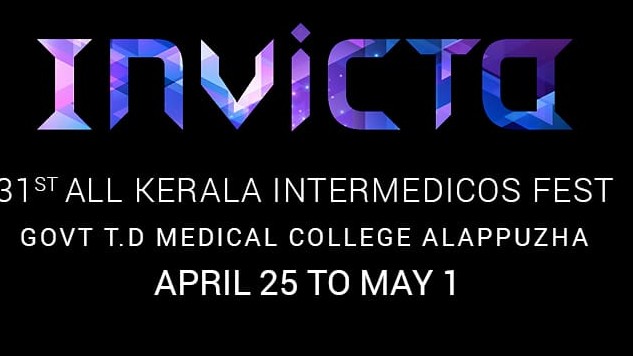 About the event
All Kerala Intermedicos Festival, the annual arts and sports festival coordinated by the Kerala Medicos Association, is one of the state's largest cultural event boasting of more than a 100 arts events including literary, fine arts, theatrics, dance and music events and nearly 20 sports events. It is the single largest celebration and one of the rarest occasions where the entire medical fraternity of the state comes together to participate with fervour and passion inducing a sense of collective belonging and pride as well as thirst to prove their mettle as medicos from all over Kerala convene in a battle of supremacy.
After a gap of more than a decade, the Govt. T.D Medical College, Alappuzha is gearing up to host the 31st All Kerala Intermedicos Fest, formally titled "INVICTA '19". The event is set to be held this summer from the 25th of April 2019 to the 3rd of May 2019.
The Intermedicos attracts the active participation of more than 5000 students from across the 30+ medical colleges spread across the length and breadth of the event as well as the involvement of the entire medical fraternity of the state as everyone comes together to celebrate and relive this carnival of talent. This year too, like all previous years, luminaries from the fields of cinema, music, dance and sports have been invited to grace the event.
Why should you sponsor?
This is the single largest gathering of medical students and doctors from across the state and would thus be an excellent marketing opportunity for the sponsor

Sarafudheen Sameeh
Jose Kurian
College Union chairman
GOVT. TD MEDICAL COLLEGE, ALAPPUZHA
Contact the Organizer
Contact the Organizer