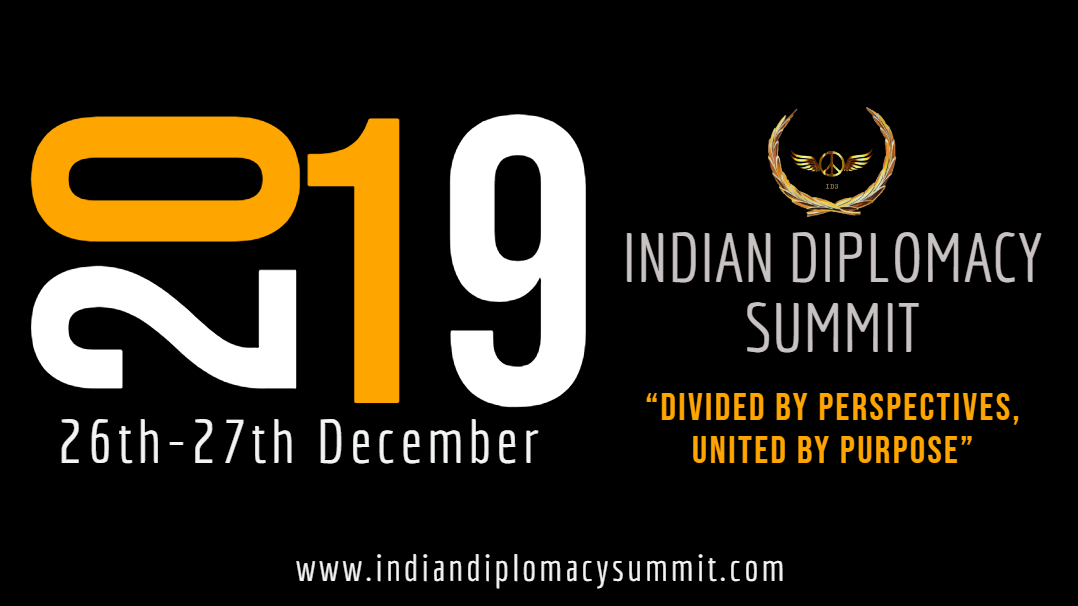 About the event
Indian Diplomacy Summit is a youth organization and the product of the ideas of a few passionate 'MUNers' and their notion to provide a platform to this generation to become great orators, perhaps emerge as young diplomats of the nation.
Indian Diplomacy Summit is based on the concept of MUN or model united nations as the name suggests, it is a podium to pioneer students that introduces them to the ginormous world of diplomacy and intellect. We must never unbind in our efforts to resolve conflicts through diplomacy. In a world of convoluted threats, our security and leadership depends on all the elements of power- including cogent and principled diplomacy.
Diplomacy is like jazz: innumerable variations on a theme. In this session of IDS, we look forward to brainstorm delegates through sterling committees and to make it an experience they cherish forever.
Whether you are a veteran or an amateur, we sincerely hope that you would join us for this noteworthy event.
For more info, visit: www.indiandiplomacysummit.com
Why should you sponsor?
1. Gives a platform to youth:
IDS strongly believes that "If opportunity doesn't knock, we should build a door"
Adhering to this, if you want be a part of IDS 2019, we proudly present you the chance to have a free internship programme in sectors like Public Relations, Logistics, Substance team etc. Because in a conference, the participants wish to have and witness the best possible experience and quality of debate. But IDS tends to give you more than that, we give you the chance to stand in life and make an identity of your own. An experience of life time which will be an asset and nostalgia for all the fellow participants.
2. Gives back to society:
"It's not enough to have lived. We should be determined to live for something. May I suggest that it be creating joy for others, sharing what we have for the betterment of person kind, bringing hope to the lost and love to the lonely."
Debating on social cause and acting to right the wrongs are two different things, we truly believe in promoting welfare and making a difference, we make donations and we not only talk about change but actually strive to make one.
Presenting you our social initiative partner- Swami Vivekananda Foundation.
3. Principles and Philosophy;
Indian Diplomacy Summit, a youth organization, is a product of few passionate MUNers with a notion to provide a platform to the future generations in becoming great researchers and orators, perhaps emerge asyoung diplomats of the developing nation.
Our philosophy is based on 4 piers- quality excellence, momentous innovation and ideas, contemporary culture and miscellany, and a value based approach. By strengthening the three pillars of the United Nations - security, development and human rights - we can build a more peaceful, more prosperous and more just world for our succeeding generations. We presume UN can stop assailant nations from initiating global conflicts.
We intend to support the United Nations organization with all the power and resources we possess. In a world afflicted by the peril of nuclear war, civil monstrosities, inexorable terrorism, penurious economies, it is of cardinal importance that the youth not only try to fathom these issues but also come up with cogent solutions. It is also an important fact that we look for solutions that is mutually acceptable and not let one side succumb to the dominance of the other.
Our vision aligns with these factors. Creativity, a desire to bring about a change and accept challenges, is what we are looking for. We embrace these principles and encourage to address shifts in the global economy that demand individuals to tussle with serpentine problems.
For more info, visit: www.indiandiplomacysummit.com

IDS Mumbai
I am a fellow Representative of Indian Diplomacy Summit.
For more info, visit: www.indiandiplomacysummit.com
Contact the Organizer
Contact the Organizer