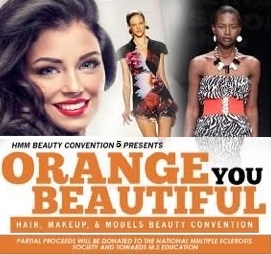 About the event
Whitney Wesley was crowned Ms. Arkansas, into the Miss ArkansasUnited States Organization, on March 28, 2015. Whitney is 30 years old. She is an event producer, author, and speaker. She created "Orange You Beautiful" Fashion Extravaganza (HMM Beauty Convention) which raises awareness and financial contributions to benefit Multiple Sclerosis. As a survivor of the non-curable brain and spinal illness, She can contest to the physical, mental, and emotional stress it causes. This is why raising awareness is critical, so one day it can be a world free of MS. It is with great honor that I invite you to sponsor my upcoming "OrangeYou Beautiful" Fashion Extravaganza. We are on our fifth consecutive show, and excited that this year show will be a part of Ms. Arkansas United States promise to her platform. The event will open with a "Hour of Empowerment" and educate guests on entrepreneurial, starting a business, finance management, and/or how to grow in your niche.
The 1st- 4th Annual HMM Beauty Convention brought out hundreds of attendees, included a fashion runway show featuring iconic Arkansas fashion brands: Richie Clark Clothing, Bella Boutique, ETE'89, Paul Morrell, Diamond Designs, as well as ecommerce brands JustFab, who is at the forefront of technology, social media and innovation in the fashion tech space, and closed with a stunning hair show. Previous participants enjoyed the benefit of being featured in national magazine Hype Hair Magazine, Midwest Black Hair Magazine, and La Gucci Magazine.
In an effort to show our participants appreciation for being a part of the HMM Beauty Convention Awareness Show, we would like to offer participants a 1-page feature in a national magazine; the top stylist and makeup artist winners, along with the top model and first runner up model winners.
I would be honored to have you sponsor the 5th Annual HMM Beauty Convention. Our events will take place during Summer 2017 in Little Rock, AR and San Diego, CA.
For sponsoring you will receive the following:
Business will be listed on websites and social media outlets for the event,
Business will also be listed the event website,
Business logo will be listed on all event marketing (flyers, posters, etc), including mentioned in radio commercial,
Opportunity to speak at event,
Award Presentation
Why should you sponsor?
The HMM BEAUTY CONVENTION Marketing Opportunities are designed to give Companies maximum exposure throughout our energized and exciting convention. The HMM Beauty Convention will work with sponsors and ex­hibitors to maximize Return-On-Investment and achieve the desired Marketing objectives. Sponsorship will be used for promotional cost and fees, advertisement (radio, tv, flyers, etc), celebrity attractions, staff, security, and donations to our selected non-profit, National Multiple Sclerosis Society.
This event will be receiving an unlimited amount of promotion via media including social media, radio, flyers and more.
Promotional spots on high frequency radio stations
Interviews regarding the event by DJ's and hosts on radio stations and more
Option to have banners presented at the venue announcing your company/business along with the show
Flyers and email blasts to announce the event
Event posted on social media sites: Facebook. Instagram, Twitter
Your brand logo and link to your website on the official event website
V.I.P Passes to be giving out as radio and website promotion
Commercial scheduled to be run on the hottest radio stations, etc
Consistent hand to hand promotion on college campuses, local business, and more
Special invitations to be mailed out to other businesses in Ms. Arkansas and Zoobie entertainment database.
Special invites to other athletes and celebrity guests
Guest celebrity appearances, live entertainment, and more on the evening of beauty!
As a corporate partner, we will match you up with the events that provides the best demographic and geographic base for meeting your goals and objectives. Depending on the size and type of partnership, you may be promoted in the following ways:
Posters
Programs and Brochures
Web
Banners
Radio
Branded Item in Swag Bags
Product Placement at events
"Spa-sorship" optional a-la-carte (attendees will leave with a memorial experience with your brand in mind. Attendees always love a moment to distress and with this added perk, our guests will keep your brand in mind with the added brand exposure in the branded spa area. This is a great tool for lead generation.)
Social Media VIP package added perk (provides sponsor with top billing in social media feeds via retweets, shares of sponsor posts, tagging in event blasts, or co-hosting the social media coverage.)
Whitney Wesley
My name is Whitney Wesley, a girl with MS. I was diagnosed in 2002, after waking up completely blind from optical neuritis at the age of sixteen. I gave up on my dreams, I thought my life was over, and struggled to accept the diagnosis of Multiple Sclerosis for many years. I was angry, depressed, and even mad at God. I realized that if I wanted someone to reestablish my dreams and hopes, that someone would have to be me. I decided to stop feeling sorry for myself and do something about it.
The Orange You Beautiful-Hair, Makeup, & Models Beauty Convention (HMMBC) event was born in 2013 out of the compassion of wanting to do more for this disease that affects me and so many others. As with any disease early detection can be the cause of a person being able to live a productive life. The event was created to raise awareness and educate people on the non-curable disease, Multiple Sclerosis and acknowledge the growing talent in the field of performing arts in my community. I dedicated my life to raising awareness for Multiple Sclerosis until a cure is found. Through my event I am doing just that and helping deserving talents live their dreams. Proceeds gained from our event is used towards awareness initiatives and making dreams come true to the talent that participate. Last year we donated hundreds to the National Multiple Sclerosis Society, MS Walk, via donations on behalf of me, and the event donating funds.
This year, we plan to increase are efforts and expand our reach. We are planning to take our initiative on the road to spread awareness nationally; hosting our event in Central Arkansas and San Diego, California. In order for our initiative to be successful the need for support is greater than ever, so we have decided to collaborate with online social funding platform, to reach a bigger audience. As the former Ms. Arkansas United States 2015, raising awareness for Multiple Sclerosis and community involvement is worth more than holding the crown. Orange You Beautiful-Hair, Makeup, & Models Beauty Convention (HMMBC) reestablished my dreams, and with YOUR support we can help make sure no one has to give up on their dreams! With your support I can get more reach and more attention on my event, Orange You Beautiful . The more support and attention brought to the Orange You Beautiful event, the bigger our initiative can be to raise awareness for Multiple Sclerosis.
Contact the Organizer
Contact the Organizer