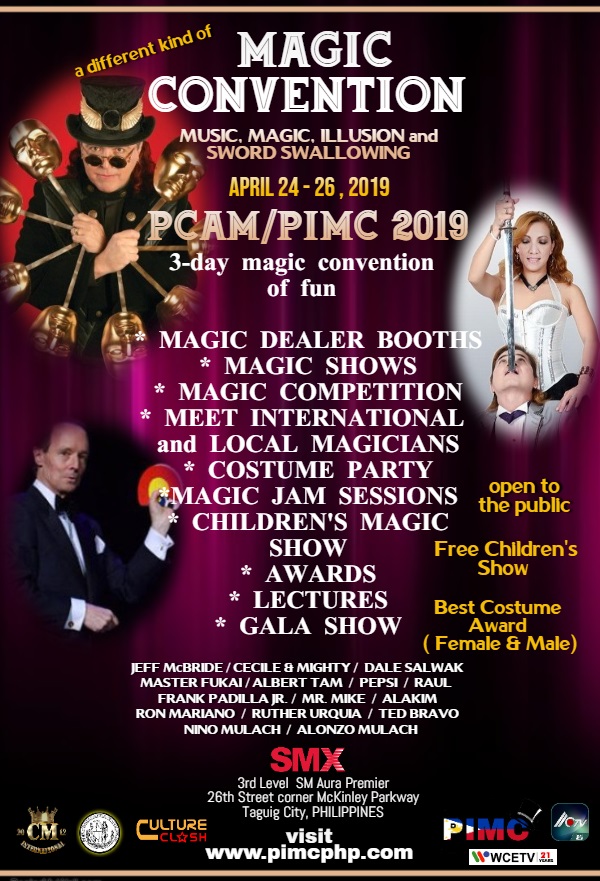 About the event
PCAM/PIMC 2019
A joint Magic Convention
EAST MEETS WEST
PCAM: The Pacific Coast Association of Magicians (PCAM) is an organization for professional, semi-professional and amateur magicians, that incorporates chapters around the entire Pacific Rim, including Japan, Hawaii, California, and Western Canada. Founded in 1933, they host a well-known annual magic convention, which is limited to a few hundred registrants and gives out awards in several different competition categories including the Pro-Challenge.
PIMC: The first International Magic Convention to be held in the Philippines produced and organized by Cecile and Mighty International and Executive Producer Raul Fernandez.
PCAM/PIMC: This convention opens up the way for Asian magicians and magic enthusiasts to experience the teachings, the competition and the fellowship of Magicians and Gurus from the West and to be part of an International Magic Convention. This convention is a tribute to the late Magician Sword Swallower " DEMILO ", Asia's pride.
BELIEVE...and you will see: One of the highlights of this convention is the most awaited GALA show that will feature the best of the best on stage from different parts of the world for a one night only variety show of music, magic , illusion and sword swallowing. The headliner of the show is the Master of Masks, King of Cards, Jeff McBride joined by the music and magic duo , Cecile & Mighty (Mighty is the only Filipino-American Sword Swallower in the world) and featuring Dale Salwak " The gentleman of magic", Master Fukai " Japan's finest", Albert Tam " Mr. Magic", Pepsi " Pride of Thailand, RAUL and Frank Padilla Jr. (El Moro) of Pacific Coast Association of Magicians (PCAM). Master of Ceremony is Mr. Mike. Joining the performance are Ron Mariano, Alakim, Ruther Urquia and Ted Bravo with special guest appearance of Nino Mulach and Alonzo Mulach and many more surprise guests. ( This Magic Gala Show is inclusive of the Convention Registration. Exclusive admission to this Gala show pass is available ONLY through registered convention participants.
COSTUME PARTY: It's a costume party ! Time to dress up in costumes related to magic, fairy tales and the like and a chance to win Best Female and Best Male Costume . Take selfies, strike a pose with your favorite magicians and performers. Lots of fun !
For more details, please contact Cecile and Mighty at www.facebook.com/CecileMighty or call 1 (626)354-2377 0r 1 (626)274-8748 )
The Host Country: ​Manila, Philippines
Manila Capital of the Philippines ​ Manila, the capital of the Philippines, is a densely populated bayside city on the island of Luzon, which mixes Spanish colonial architecture with modern skyscrapers. Intramuros, a walled city in colonial times, is the heart of Old Manila. It's home to the baroque 16th-century San Agustin Church as well as Fort Santiago, a storied citadel and former military prison. Just north of Intramuros is Binondo, Manila's Chinatown, established in the 1500s and bustling with shops and restaurants. Rizal Park is Manila's main public space, a vast mall with fountains, gardens and monuments honoring national heroes. The Museum of the Filipino People focuses on ethnographic and archaeological exhibits, while the Metropolitan Museum of Manila displays contemporary art. The blocky, modernist buildings of the Cultural Center of the Philippines house various performing arts organizations. Roxas Boulevard is a palm-lined waterfront promenade with hotels, restaurants and views of Manila's famed sunsets.
Why should you sponsor?
Open to the public of all ages. A wide range of audiences will be reached. The event will be held in a convention center located within the mall and public traffic is substantial and on-going. A great event for marketing and exposure for any type of business. ...and who does not like Magic?

Cecile & Mighty Torrente
The Organizer: 
    Cecile and Mighty International is a registered California, Los Angeles county business NAICS 71, Arts, entertainment and recreation. The business is focused in producing, promoting, or participating in live performances, events, or exhibits intended for public viewing.   
Cecile and Mighty International established on February 2012 under registered owner, CEO, Mighty G. Torrente, a full-time professional magician and the only Filipino-American Sword Swallower in the world and chief financial officer Cecilia B. Torrente, a professional singer, organizer and entertainer.  
Since 2012, Cecile and Mighty International has produced, organized and hosted live performances and meet & greet events in and around California, San Diego and Las Vegas. Shows that featured international and local performers, e.g. Florante, BAGYO, Jed Madela, Raymond Lauchengco, Introvoys to name a few. They co-produced and directed Travel Time with Cecile and Mighty on ACTV which is currently showing daily on local TV channel 30.6 in Las Vegas, Nevada.  
Cecile and Mighty International began live show tours in Eastern Asia in October 2013. Their projects extended to countries like Thailand, China and the Philippines. As seen on America's Got Talent Season 11, Cecile and Mighty music and magic duo features Mighty, the only Filipino-American Sword Swallower in the world.  
    Cecile and Mighty International is determined to produce and organize events that will reach out to all enthusiast to have them experience the top of the line entertainment. 
Contact the Organizer
Contact the Organizer